The Power Suit Introduces A New Fitness Culture Of Style And Versatility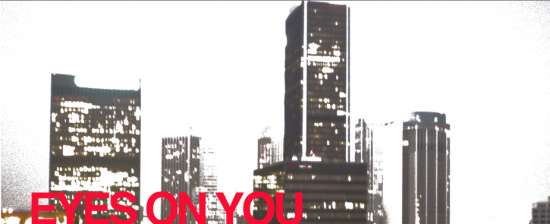 ECF Performance iconic Power Suits (l) Fitted (r) Relaxed
It was in the early eighties when I first heard James Todd Smith (aka LL Cool J) on the radio. It was a time in music where disco, funk, rock, pop, rap, and r&b all contributed equally to the Top100 Music chart. Several artist that I enjoyed during that era were, Earth, Wind, and Fire, Blondie, and The Commodores to name a few.

                                              LL Cool J in Fila track suit
I particularly liked LL's style. He was new on the scene at the time and popular within my peers. His tough and sexy image on stage was larger than life—it was immeasurable! The Fila and Adidas track suits that he wore, combined with the Kangol hats, Adidas tennis shoes, and those notorious Gold nugget neck-chains set the tone for a new style in fashion. I think every guy that I knew wanted to look and dress like him including myself. Even-though I yearned for my very own Adidas tracksuit and Kangol, my parents never supported the idea.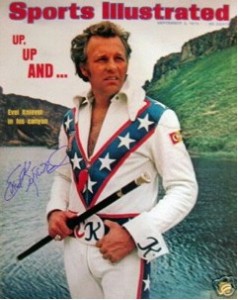 Evil Knievel on Sports Illustrated cover
Shortly before this time, I also had a fascination with the larger than life Evil Knievel. For those of you who don't remember, he was the dare devil who became famous in the 70's for attempting 75 ramp-to-ramp jumps with his XR750 motorcycle over multiple cars and buses. In 1974 he also attempt but failed to cross over Idaho's Snake Canyon in his Skycycle X-2 steam-powered rocket.
As a kid, I was amazed when watching his stunts on T.V., and never understood why he would subject himself to that level of danger! He wore fabulous 2-piece stunt suits that consisted of patriotic racing stripes with a cape. Here is another fashion statement that I could never convince my parents to purchase for me!
Later in life both idols came together as inspiration when I began designing the ECF PERFORMANCE collection in the early millenium. The focus was set on borrowing silhouettes from the 70's and 80's as I envisioned incorporating the looks of both icons to create my highly fashionable active/casual wear. I began designing the cohesive collection, but noticed that it was missing a key look—The TRACKSUIT! After many design attempts, the revolutionary Power Suit detailed with the signature Power stripes (the crown jewel of the line) came to life in 2003.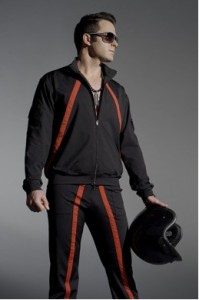 Power Suit advertisement
It was my goal for these suits to be stylish and functional. After an exhaustive search for technical fabric to be use in the construction of my garments, I found a high-quality 4-way stretch fabric called Dryflex™ which is produced by Eclat Textile Company. It has a poly/spandex blend that is beneficial at wicking moisture and protecting against harmful u/v rays. Sold separately or as a set, the Power Suit is a combination of the Power Jacket and Power Pant designed to appeal to the fashion forward and fitness conscious male between 20 to 60.
ECF PERFORMANCE is driven to produce comfortable, stylish, functional, versatile, and quality designs in both fitted and relaxed silhouettes that fit the lifestyles of our consumers, and is produced in Los Angeles.
The Spring/Summer 2013 collection premieres with contrasting and solid color palettes in black, white, carbon, and red. In addition to the Power Suits, are a colorful mix of performance shorts, functional t-shirts, compressions shorts, hats, leather goods, and jewelry. The price ranges between $90-$140 for jackets, $50-$100 for pants and shorts, $50-$90 for t-Shirts, and $120-$400 for accessories. The Fall/Winter 2012 collection of ECF PERFORMANCE will be available on-line at ecfperformance.com in early January.
Comments
comments