EYES ON YOU: Interview With Eric Covert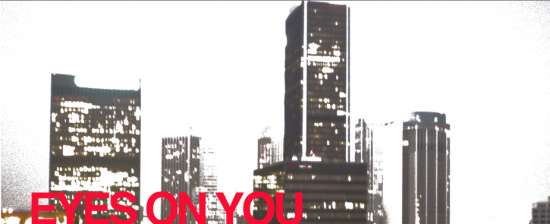 In an entertainment dense community like Hollywood, Eric Covert, VP of Franchise Marketing and Creative Content for Disney/ABC Television Group has made a place for himself.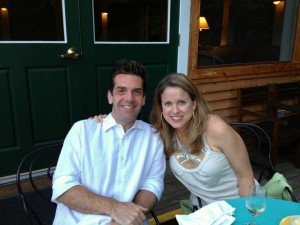 Eric with his wife Maureen
It's a sunny morning in Verdugo Viejo, an upscale section in Glendale, California, known for it's tree lined streets and charming European revival-styled homes. Eric is hanging out with his 3 year-old daughter Charlotte in the front garden of their 2-story 1930's Spanish-styled home. Everything is going well, Charlotte is picking flowers, while he manages to keep her busy and entertained, the two words that he knows well.
Eric's business is entertainment, and he maintains a busy schedule managing a team designated for creative content and production. Eric's work includes creating content and overseeing projects seen on Disney Channel and Disney XD including Friends For Change, The Disney Channel Games, and Next X to name a few.
I sat down with Eric in his garden surrounded by orange trees, camellias, daisies, and marigolds to discuss his career, personal life, and future. The area surrounding us was peaceful and filled with chirping birds, and a subtle aroma of flowers that made for a perfect setting.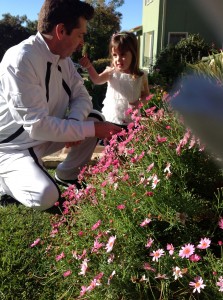 Eric picking flowers with daughter Charlotte
EOY- How did you get involved in the creative and production side of the business?
EC- I got involved in this business after a life long interest in basic storytelling, music, theater, acting, loving TV and movies, and wanting to be a part of it. I moved from Northern California to be among the film and TV business in LA.
While attending UCLA I also served on their Campus Events department organizing movie screenings and celebrity speaking events with an outside creative/marketing company. It was that job in college that then gave me my first creative and production job after college. That outside company offered me a job coordinating their national film marketing efforts producing content to 300 colleges across the country. And from then on out I have had positions that merged creative content/production with strategy and marketing.
EOY- What type of training did you receive to prepare you for your field?
EC- I prepared for this field in some ways that were academic, others professional.
Academically I was fortunate to have participated in creative writing and literature courses at UCLA. That experience taught me that the world needs good writers. Having a point of view and defining it (and even defending it) in written form is a quality that you must know how to do. It doesn't matter if you are writing a script, or an email, the ability to form your thoughts, and expound on them in a persuasive way is the key to at least some success in this industry.
Professional "training" took place through time and experience, which built my confidence on sets and in edit bays in the early days. The best training I received was having an open mind, a strong passion for being around creative types, entertaining people, engaging people through good writing, and I have a pretty naturally open mind to change. All of these experiences, principles and beliefs prepared me for my field.
EOY- What motivated you to become a VP for one of the world's largest entertainment and media companies?
I always wanted to work in this business. Honestly it never even occurred to me early on that Disney could even be an option. All I wanted to do was work with creative folks who were writing, producing, acting, and entertaining. Then in time, I discovered I could "graduate". I found myself going from "the entry level new kid" position to this whole other thing called "the guy we trust and the guy who contributes" to the overall business. That opened up a whole world of possibilities and confidence. I found that somehow I could keep moving ahead with the right set of circumstances and support. Then that road led to Disney and I had terrific support from great leaders and projects that helped to continually challenge me.
EOY– Explain what your job entails, and the day-to-day responsibilities?
EC- I work on projects that are major company priorities that we want to tell our audience about. Whether the projects are big Studio releases, corporate initiatives, or franchise extensions I manage the strategy and creative how to market them on our Disney branded television platforms. That is half the job. The other half is to go the other way in managing the strategy and creative content used to market our TV priorities and franchises throughout the other platforms and divisions of Disney.
EOY– What are some of the more rewarding projects you have worked on?
EC- One project I have been lucky to work with others to grow is called Disney Friends for Change. Friends for Change was created to provide resources and a platform for kids who have always told us they wanted to change the world around them. We started 4 years ago with a simple goal of having kids join with their friends in being great stewards to the planet. We now have more than 5 Million kids in more than 30 countries who've have joined the movement. And this year we have expanded the program to not only help the planet but to help the people who live on it—volunteering, community involvement, fighting bullying in all forms, standing up for the ideas they believe in that can help others. I am very lucky to have been at the beginning of this program and having been able to create content used globally that has helped kids everywhere join the cause.
Since Fitness and Health and Nutrition are important to me I also oversee creative and production with our corporate and TV team for Disney Magic of Healthy Living. It's all about trying to create a healthier new generation of kids. Leading a healthy and active lifestyle is not only, something that is easy and fun, but one that I personally believe in. So we have been working on all sorts of TV projects to demonstrate this and motivate kids and families. From content featuring our Disney talent cooking, to playing sports, biking, dancing, and even working with pro athletes. Easy, simple things that are fun and urge kids to give it a try. Our TRY It! Campaign shows kids as they TRY their best, TRY new foods and physical activities and TRY it with friends.
Being physically active, eating healthy, and the fun and ease of a healthy lifestyle are important to me, so it's personally rewarding to be a part of this.
EOY- On a different note when it comes to your personal life, is it as demanding as your professional life?
EC- It is demanding but has different, far sweeter rewards.
EOY- Tell us about your roots
EC- I am from a very small agricultural town in Northern California – Yuba City. Everyone knows each other. I am the youngest child of four. My siblings were a bit older than me and each of them achieved great things: academics, accomplishments, and popularity. It set a high bar for me, and it set goals in a very distinct way. Be as good or better. Be someone who can hold their own. Find your specialty. My parents divorced when I was 14, and I spent a strange upbringing in that same small town where everyone knows each other. So my parent's long relationship then took a turn towards awkward co-existence. I was their bond, their "middleman" and the one common denominator of trust and safety. It had an overall influence on how I set out to be the kind of person who understood multiple points of view, and tried to find common ground.
EOY- Share with me how your life is like as a husband and father of two?
EC- Being a father and husband is the greatest accomplishment and experience I have ever had. At times I am the leader, and at many more times I have to be a follower. I follow my wife's lead in some instances of how to best parent, and I sometimes follow my kids' lead on how to provide the best level of support and guidance. In the end, it is the element in my life that balances me, fulfills me, challenges me, and makes me feel whole.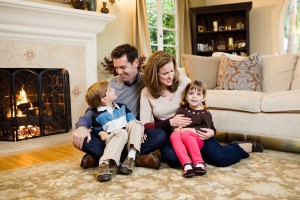 Eric with his family (L-R) son Patrick, wife Maureen, and daughter Charlotte   
EOY-What do you do in your spare time?
EC- Spare time is set aside after work, shoots, appointments for my kids, and when I feel it's time to do things that challenge me, give me a new perspective. I love exploring new restaurants, enjoying food and atmosphere. I enjoy cooking as a personal expression of taste, new styles, and stuff that just makes me happy. In both iterations — a new restaurant or cooking at home — I enjoy it with my wife who also shares that same love for food and cooking. I love the creative process of gardening. I love planning, planting, reviewing the status of how things are doing, yanking things out and re-planting things for maximum results. It's kind of like a form of production and visual creativity, but somehow the results are easier to achieve. I enjoy movies, reading, travel, writing, skiing, and music either listening on my iPod or in concert. And I love exercise. Running, weights, yoga, whatever. It keeps me focused and makes me ultimately feel relaxed and "spent." And though it is not recreational "spare time", I wake up early and set aside every morning for time spent with my own thoughts and let my thinking be proactive before I look at emails, my schedule that day and my mind becomes "reactive".
EOY- What are your favorite vacation destinations?
EC- Carmel is our favorite place to unwind, enjoy great food, the ocean, long walks, sunsets, wine and the good life. Kapalua in Maui is a favorite. Stockholm, Sweden ranks up there among my all time favorite destinations: historic, beautiful, charming, authentic and where I visited often when I lived in Sweden many years ago. I spent most of my childhood in Lake Tahoe, going skiing in the winter, and swimming, hiking, playing in the summer. It has been so exciting to go back there now with my own family. And now the family also heads to upstate Vermont every summer to Tyler Place. It's 62 cabins all around Lake Champlain where the kids go to camp all day and the parents treat themselves to food, sleep, swimming, yoga, wine tasting, etc. Everyone wins! Then there's Paris, London, San Francisco, Napa/Sonoma, and more, and more and more!
EOY- Eric, at 42 you are in amazing shape. What is your fitness and diet like?
EC- It's all about moderation and awareness. I am aware of the kinds of foods I love which ultimately I know are going to change my physical look. I love just about any starch/carb you put in front of me, so I have to make conscious decisions to refrain, refuse or at least restrain! Save it for the weekend! I spend a few hours a week of commitment to a good regimen with the guidance of my trainer Eric Cooper. With his help, I now have a fitness commitment that allows me to challenge the limits of my physical, mental and cardio comfort zone but to ultimately feel great. I have focused more on maintaining a lean and healthy physique instead of a "muscle growth only" objective. When you are 20 all you want is muscles; When you are 30 all you want is a plan; When you are 40, all you want is to look 39 forever! I mix it all up and now and include a better cardio routine to my life. I eat out at lunch virtually every day. Instead of impulse decisions, I think first about what I really need and then I make the call. Usually that means salads, skinless chicken, fish, soups, stuff that fills you up but is not as bad for you. I also plan my family's meals every Sunday and that means I see what is coming up for the week so instead of just "ping- ponging" around on my choices I go into it with a plan of how it all adds up.
EOY- Being in the entertainment business you must have some favorite TV shows or movies?
EC- Look, I work, take care of my kids and try to do other stuff so I have to carefully divide all the entertainment. It adds up to an eclectic list to be sure! I love Mad Men, 30 Rock, Big Bang Theory, Top Chef, WIPEOUT, Phineas and Ferb, Once Upon A Time, Downton Abbey, Eastbound and Down, Tosh.0, all sorts of things. Oh, and I never ever miss an episode of McLaughlin Group! Yeah, I know. I sound old.
EOY- What is your biggest turn off?
EC- I would say probably passive aggressive folks. They make it harder for me to get at the real issue at hand.
EOY- How do you deal with them?
EC- I spend a-lot of time appealing to the OTHER issues at hand instead of the thing that is making them act in a guarded, defense/offense way. This hopefully gains a sense of trust overall so we can then approach the actual challenge at hand.
EOY- What makes you happy?
EC- It's a sense of accomplishment of achieving something that I hoped could be possible. From my kid improving in his reading, to me pulling off a massive project that everyone said was impossible, to a kid telling me they love something I may have put on TV and repeating back the key messages we wanted to say. It just makes you feel that if you can visualize it, it can happen. And when it happens, it's amazing!
EOY- What is the biggest mission that you are setting out to achieve in the future?
EC- Staying healthy, challenging myself, putting myself in new situations where I have to pull from the now decades (groan!) of experiences I have, to good use towards the future.
EOY- What will Eric Covert be known for achieving in the history books?
EC- He was a good guy who treated others fairly, and got others to believe great things can be accomplished when working together.
Comments
comments