EYES ON YOU: Feature On John E. Conlin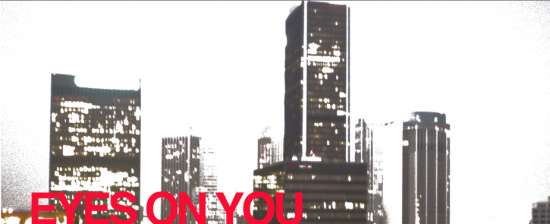 This prominent business leader tells how an important discovery helped improve his health, balance his career and personal life, and allowed him to enjoy the seas all around the world.
                                                 John E. Conlin
         Co-President/COO NWQ Investment Management Company
Sports were always part of my life, and with 3 brothers, sports were a big part of my family growing-up. In high school I played on the tennis, baseball, soccer and basketball teams, and was team captain for soccer and basketball. By the time I got to college, tennis became my main sport and was instrumental in paying for my college education. I took a break from tennis after getting my first job in the field of investment banking at First Boston, where I would ultimately work for years.
After a 10-year break from tennis, I started playing competitively again, playing almost every day. To improve on the court, I also started running up to 30 miles a week. At the time, however, I didn't understand the importance of balancing repetitive activities with stretching and strength training. Consequently, all of my high impact activities began to take a toll on my body. In 2006, after getting a MRI, I was diagnosed with arthritis in both hips. My Dr. was quite happy to give me hip replacements whenever the time came, but my preference was to keep my own hips and figure out another way to exercise.
Initially I just exercised less, and consequently gained 20 lbs. So I began in earnest to look for a low-impact sport that I could enjoy and that would be effective in getting me back into shape. I first turned to bike riding, which is easier on the body, but takes a long time to get a great work-out. An hour run for me in the past would translate into 3-4 hrs. of bike riding. With my job and family, I could only do this on the weekends, but there also is some danger biking on roads with traffic in the first place, especially as I was living in a city. So I turned to swimming.
Swimming was frustrating at first, as I had so little technical knowledge of the sport–it was difficult for me. After two laps, I'd be gassed due to my poor breathing. What I hoped would be enjoyable, turned out to be incredibly difficult. I spoke to a good friend, who was an All-American swimmer in college, and he got me connected with the swim program at UCLA and some instructors that worked at the University. My first 20 lessons were with a very fit female on the UCLA swim team, and once my basic technique improved, I started training with a former assistant coach at UCLA with many individual swimming achievements including her making the Olympic team twice. Working with someone so skilled and accomplished in swimming was a great motivator for me.
I took a lesson once a week to compliment my training sessions, and after a few months became more confident as a swimmer. My technique improved, and while still very challenging for me, I was able to swim more efficiently. I continue to train with my coach and swim for an hour to an hour and half, depending on the day, with the UCLA Masters Swimming Program, about 5 mornings per week.
"Before entering the pool, I make it a point to do extensive warm-up exercises and stretches to prepare my body for the swim."
Johns Pre-Swim Warm-Up Routine. Top row (l-r) Chest stretch, quad stretch, Second row (l-r) Hip stretch, cobra stretch Third row (l-r) Push ups Bottom Row (l-r) Cable crawl
Before entering the pool, I make it a point to do extensive warm-up exercises and stretches to prepare my body for the swim. Flexibility is important for swimming technique, so I start my pre-swim routine by stretching with elastic bands. I continue with 20 push-ups, 100 sit-ups, 15 minutes of further stretching and finish with 20 pull-ups. I then hit the pool. I do this routine both to help me with my swimming but also to help balance my workouts and protect my body from any repetitive motion damage.
"One aspect of swimming that has been a surprise and something I enjoy, is exploring cool new places to swim when I travel for work or pleasure."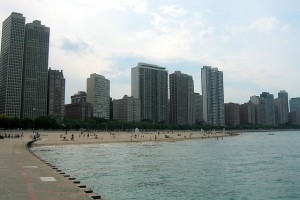 Clockwise – Iceberg's Swimming Club-Syndney,  Olympic pool- North Sydney, Oak Street Beach-Chicgo, Wailea Beach-Maui
One aspect of swimming that has been a surprise and something I enjoy, is exploring cool new places to swim when I travel for work or pleasure. When I think of all the places that I have swam, my three most favorite places are all in Sydney, Australia. The pool at the Iceberg's Swimming Club on Biondi Beach is my favorite. The 8-lane 50-meter, salt-water ocean pool is built into the rocks next to the Pacific Ocean. Hands down this is one of the most intriguing pools that I've ever seen. The amazing thing is that the pools share waves from the Pacific Ocean! The facility was established in 1929, and is visually stunning.
My second favorite pool is the Olympic pool in North Sydney, which overlooks the Sydney Harbor. The pool complex allows everyone to combine swimming with other leisure pursuits in one spectacular location. The 50-meter pool has 8 lanes and is sort of dazzlingly abutted by the Sydney Bridge. While swimming, it was fascinating to catch a glimpse of this monument between each lap. After my swim, I dined at Aqua, this restaurant perched above the pool, which has a really diverse menu of North African, Italian, and French cuisine. I sat at the poolside deck, which had an amazing view of the Sydney Bridge, while I enjoyed my meal.
My third favorite pool in Sydney is the Andrew 'Boy' Charlton Pool, which is a floating, 8-lane, outdoor, heated salt-water pool off the shore of the Woolloomooloo Bay. It is located in the Sydney Harbor near the Royal Botanical Gardens. The 50- meter pool was renamed in honor of Andrew "Boy Charlton', an Australian swimmer who won 5 Olympic medals during the 1920s. The setting is really beautiful and you can see huge boats and small ones sailing by as you swim.
My travels have also led me to other great destinations around the world that allowed me to enjoy the sport of swimming. When in Chicago, I stay at the Park Hyatt Hotel and I enjoy their 25-yard pool. I've also swum in Lake Michigan roughly 200 meters out, and 1 mile across from Oak St. Beach to North Ave. Beach. The water in September was warm and I could see clear to the bottom of the lake. Within the distance that I traveled, I was impressed to spot only one piece of litter on the lake's floor—a Budweiser bottle.
In New York City, I swam in the Long Island Sound from my father-in-law's house on the island to a beach club about a half mile south for lunch. I also experienced a breath-taking swim in the Mediterranean Sea near the Rock of Gibraltar Spain.
Along with all of these wonderful journeys, I must say that the single most thrilling incident was swimming over a whale in the Pacific Ocean off the coast of Wailea Beach, Maui ! It was the closest that I've come to an out-of-body experience.
Swimming is one of the few sports that I can still do for which I do not require Tylenol afterwards. It is the hardest sport I have ever tried, in terms of being both physically and mentally challenging. I don't know if I will be swimming in 10 years or even 5, but right now I appreciate having it in my life.
Comments
comments